February 2021 Monthly Tarot Card Reading For All Zodiac Signs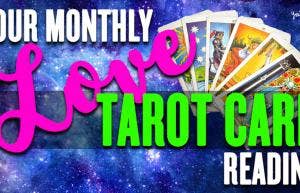 Your monthly tarot card reading for February is here for all
zodiac signs.
So, what does your February 2021 monthly tarot card reading have in
store for your zodiac sign?
It's always been this way, throughout history; we get ready to

implement some grand resolution at the end of the year, and
come January 1, we begin our procrastination.
Diets never really catch hold in January – but in February, ah,
now we're talking.
There's something about February that means business; what are
we waiting for? March? April?
Are we waiting to start our lives 'officially' in the future, or
are we just about ready to make it all happen during the month of
February?
RELATED:
2021 Tarot Card Reading For All Zodiac Signs In
Astrology
We are ready to go now, and that's because there's a certain
kind of productive energy that occurs during this month.
The tarot will give us each a clue as to how the month will
go.
According to your sign of the zodiac, you will receive a special
card, meant only for you.
Make sure you take heed to the lessons, warnings, and insights
coming your way.
Here's what your monthly tarot card reading has in store for you
for February 1-28, 2021, by zodiac sign:
Aries (March 21 – April 19): The Wheel of Fortune, reversed
This isn't always the number choice of cards, but for someone
like you, Aries, it's the card you need to learn from.
What's going on here is that you are about to
experience a setback, and that may have the power to thwart all
of your newfound energy.
You have all the right intentions, and you want to do your very
best – but there's something in your way, and it may very well be
you.
How this works in the real world is that there's something about
your plan that wasn't fully worked out – you need to iron out the
kinks here, and if there's a lesson to learn from, it's that lesson
of preparation.
You are sometimes impatient, and you've learned the tricks to
get around the things that take too long or are too arduous to tend
to; here, in February, you're going to have to take the long
road.
You may not like it, but it's part of the
change you must accept if you want things to work out for
you.
You have an opportunity set up for you, what's needed now is
your attention.
Focus and try to understand that doing the work is what will get
you the results you are looking for.
No shortcuts here, no 'easy way out'.
RELATED:
One Card Tarot Reading For When You Want To
Breakup
Taurus (April 20 – May 20): King of Wands, reversed
You may be on the verge of taking on a new opportunity, as in a
new job.
You may even be very excited about this new state of affairs,
but it's hitting you: you don't really want this work – and you may
also be feeling a
sense of panic, a desire to get away from obligations that loom
before you.
There's also a feeling that travels with you, this month, and
that is about uncertainty and a bit of hostility.
You may feel the desire to lash out at those who get in your way
or to unjustly accuse someone of trying to ruin your good time.
It's a reflection that comes to haunt you; your intolerance of
others is a bold projection of the intolerance you feel towards
your own self.
You know there are changes to be made – personal changes, and
because you haven't begun the process, you start to blame others
for your own condition.
It's going to be a trying month, Taurus, and your best bet is to
take a
breath, stand back and think before you act – but yes – think
hard.
Gemini (May 21 – June 20): Page of Wands
This
minor arcana card is here to let you know that you're on the
right path.
This month has great potential for you, Gemini.
You've had ideas in your head for quite a while – in fact, you
feel you've been cheated out of an entire year and now you're
raring to go.
Your inspiration will open the next door for you.
Hold on to that passion this month, and use
'stick-to-it-ive-ness' to get what you want and need.
Don't give up too quickly, as you are used to doing.
Don't let minor upsets get in your way.
Kick open the door to discovery and do what you do best, Gemini
– learn!
You are so good at gathering info and processing it – you could
be a human-computer, you're so smart.
But now is the time to learn about your passions, your crafts,
your abilities.
Now is the time to make something of yourself by believing that
you can.
Cancer (June 21 – July 22): Knight of Cups
You've received this card because you are getting the heads up
on love – and on creativity.
If love is what you seek, you'll get it this month, Cancer.

And if you are feeling creative, this is the time to make good
on that feeling.
You've had plans in mind for a while; it's time to set them in
motion.

A Knight is a person on a mission – that means you have a
purpose, which also implies action – momentum.
You are not supposed to sit home with your dreams.
It's time to set a course and begin it – no more
procrastination.
You're lucky too; people believe in you and in your dream, so
share it.
If love is your goal, then know that it's all falling into
place.
You are a person of great love and ambition, and this is the
month to make your dreams come true.
Leo (July 23 – August 22): The High Priestess
Generally, you know yourself as a person of insight and
perception – yet doubt seems to be entering into the picture this
month, Leo, with the presentation of
this major arcana card.
You've always had a handle on things – and this month is
Keywords: zodiac
Source: FS – All – Astrology
February 2021 Monthly Tarot Card Reading For All Zodiac
Signs