Daily Love Horoscope Forecast For Today, 10/5/2018 For Each Zodiac Sign In Astrology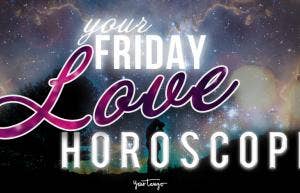 Your daily love horoscopes are here for all zodiac signs in astrology for Friday, October 5th, 2018. The Sun is in the sign of Libra, and this brings your attention to relationships, love, romance, and the desire to connect on a deep spiritual level that is beautiful, kind, and loving.
VIDEO: 10 Quotes About Living A Beautiful Life
RELATED: How Libra Season Will Affect Each Zodiac Sign From September 23rd Until October 22, 2018
Today, the biggest news has to do with the planet of love. It began its transit in the sign of Scorpio last month, and now Venus goes retrograde today and stays retrograde until November 16th.
Venus is one of two planets that when they go retrograde, it's not an optical illusion, it's actually it moving in a backward motion. Every 8 years Venus goes retrograde at almost the same degree that it did in the past related to relationships and money. What you value and what you love can come into focus and you may find yourself reevaluating things that you carry in your heart and who you want to be there.
So, its retrograde motion can come up in the area where you desire to connect with others, to discover yourself and to be in tune with the world around you in beautiful, creative ways. But, it can also bring up some things from the past (ie October-November, 2010). 
RELATED: Find Out Your SECRET Venus Sign — And What It Says About Your Personality
Retrograde is this energy turning inwardly and starts a build up that will release or compel you to take a strong form of action when it goes directly once again. Venus is a planet associated with more than just love, it also supports the attainment of material possessions, prosperity related to work, partnerships, romance, love, play, dreams, the kidneys, and new business that you're passionate about. 
While Venus is retrograding in Scorpio, pay attention to finances and that you're where you want to be when spending money during dating, on family expenses, and to take time when you want to make major purchase, because the planet of love is also the planet of debt when in the sign of Scorpio. So, use the energy from the planets in Earth and Air to do the right thing by being logical and grounded. 
RELATED: How Venus Moving Into Scorpio Will Affect Your Love Life In The Next Few Weeks
Venus is the ruling planet of Taurus and Libra, so this is an opportunity to apply logic and to demand things be responsible and logical at the same time. In love, it's good to be pragmatic, even if it's not viewed as super romantic. However, this gives a great opportunity to love with purpose and to find someone who supports what you do and will be by your side in a supportive way.
To find out more about today's love Sun sign horoscope forecast, look for your zodiac sign below to find out what's in store for you by birth date for today in astrology.
WATER SIGNS DAILY HOROSCOPES:
CANCER (June 21 – July 22)
Tarot card: Justice
Venus retrograde in Scorpio, 5th House, romance
Cancer, during this retrograde season you may find that your standards go up and your tolerance for things that are unkind go up, too. This is a wonderful time for setting boundaries and getting clarity on what you really want and deserve in love. This retrograde, an old love from the past can come back into your life to heal an area that needs to be aired out as well. 
RELATED: Personality Traits Of The Cancer Zodiac Sign That Make It The Sweetest Sign In Astrology
PISCES (February 19 – March 20)
Tarot card: Wheel of Fortune
Venus retrograde in Scorpio, 9th House, adventure
Pisces, during this retrograde season you may find yourself in a better position than most to improve your life in a big way. You can be taking time to either reevaluate travel plans or paperwork. You might want to relearn something you had studied in the past. When it comes to love, you could be involved with someone who lives distantly from you. This is a time when things start to be reevaluated and you learn about new cultures making you much more introspective than you've been.
RELATED: Facts About The Pisces Horoscope Sign That Explain These Wise, Old Souls Perfectly
SCORPIO (October 23 – November 21)
Tarot card: The Hanged Man
Venus retrograde in Scorpio, 1st House, self-development
Scorpio, during retrograde season, you this is a time when you take things a little more personally and re-evaluate the way you want your life to go and in what direction. You may be in a situation where you are ready to participate in some self improvements that encourages inner courage and self-esteem building. You may decide to launch your own business that you feel passionately about, too.
RELATED: Traits Of The Scorpio Zodiac Sign That Make It The Most Intense Sign In Astrology
AIR SIGNS DAILY HOROSCOPES:
GEMINI (May 21 – June 20)
Tarot card: The Magician
Venus retrograde in Scorpio, 6th House, health
Gemini, during this retrograde season, this is a time to look at your health in a whole new light and take the time to do things that encourage rest, discipline and good eating. You may find that some old health issues come back up again, you'll feel encouraged to take care quickly and with more determination. New opportunities
Keywords: astrology, zodiac, horoscopes, horoscope, love horoscopes, zodiac sign, zodiac signs, love astrology, love horoscope, aries horoscope, virgo horoscope, capricorn horoscope, sagittarius horoscope, libra horoscope, taurus horoscope, gemini horoscope, cancer horoscope, leo horoscope, aquarius horoscope, pisces horoscope, scorpio horoscope, love tarot, love tarotscope, love zodiac, love zodiac signs, love zodiac sign, horoscope sign, love horoscope signs
Source: FS – All – Astrology
Daily Love Horoscope Forecast For Today, 10/5/2018 For Each Zodiac Sign In Astrology